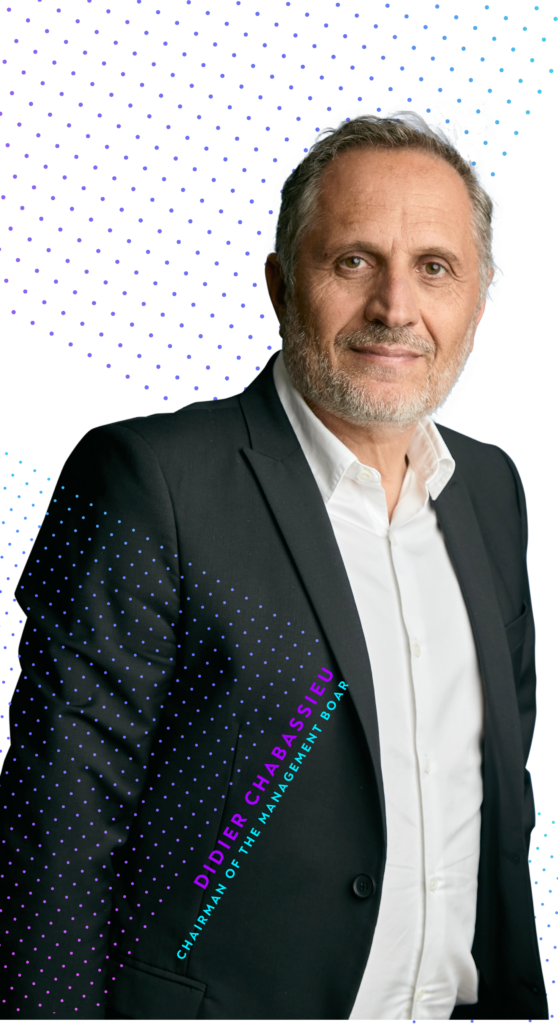 HIGHCO AS A PARTNER IN THE RETAIL TRANSFORMATION
I'm extremely proud of the incredible work accomplished by all our teams in a context that is still complex. This engagement has enabled HighCo to end 2021 with an ex-cellent financial performance, posting both a return to growth and strong profitability.
Through the innovation strategy led over the past five years, HighCo has developed new expertise and in 2021 generated two-thirds of its business in digital activities. I'm also very proud of reaching that goal. But today we operate in a world that is transforming exceedingly fast, and once again the Group has to adapt.
Digital technology sparked major shifts in our day-to-day habits, businesses and consump-tion. But the crisis that we have endured and especially the increasing presence of social media have accelerated changes in our workplaces, our work methods and our rela-tionships.
Within our organisations, we also integrate the social and environmental challenges that society faces. And it is time for us to take urgent action. As a business leader involved in its local regions for many years, HighCo pledges to continue its action and aims to set the example in terms of social and envi-ronmental policy.
Our world is changing at a growing speed. Given these conditions, all sectors must reinvent themselves. More specifically, retail is also undergoing a profound trans-formation. Following on from e-commerce, m-commerce and social commerce, Web3 will now create new habits and challenges for our clients.
Positioned at the heart of the relationship between brands, retailers and their consu-mers for 32 years, HighCo has the necessary strength to continue investing in innovation and creating the solutions that the market needs.
Our goal for the years to come: to be the key partner for brands and retailers in acce-lerating the retail transformation.
HighCo is undergoing a transformation.
In its expertise, its research and especially in its offer. The challenge is complex for the staff and the Management Board.
 But HighCo's future is at stake. And by constantly changing, the Group has remained a powerful force for more than 30 years.
 It's also an exciting challenge when we think about how fast the world's technological opportunities are changing.
HighCo must behave like a startup.Still and always. And the story continues!